Construction Alerts
Power Plant access restricted – May 21-22
5-18-2018 – Monday May 21st through Tuesday May 22nd  there will be no vehicular or pedestrian access around the north side of the Power Plant. The Lennon and Anderson garages will be accessible but there will be no through access between the two behind the Power Plant. We apologize for any inconvenience.
---
Summer Projects Parking Changes
Please refer to the campus map below that will identify the corresponding "letter" to the area being addressed.
Starting Tuesday, May 23rd the portion of the "ring road" (A) from the library parking lot south of the Ruane Center will be closed to through traffic for the next 16 months.  The road west of Albertus/Sowa will be utilized for the necessary "lay-down" area to accommodate the new addition to the Science Complex.  Parking along that portion of the roadway from Harkins Drive to the construction gate (B) will be reserved for Admission/Visitor parking only.  Faculty/Staff that have been utilizing those spaces will be asked to consider parking in alternate Faculty/Staff lots and the two parking garages (Lennon/Anderson).  In addition, there will be limited parking around Harkins Hall as there will be an additional ten spaces reserved behind Harkins Hall (C) for Admission/Visitor parking.  Once again, we are asking those displaced to consider parking in one of the two garages on campus.  The spaces behind Harkins Hall will be clearly marked.
Also, as construction progresses on the Ruane Friar Development Center, parking in the Wardlaw/Cumberland Lot (D), will be diminished by approximately 45 spaces.  As a result of the property acquisitions, 100 spaces for faculty/staff use were able to be retained.  Entrance to that lot will be from Wardlaw Ave. and exiting will be through the new gate onto Lucille St.  Please note that the Wardlaw entrance to that lot is ONE WAY "in" as the Lucille St. exit is ONE WAY "out."
In addition to these two areas of campus, the parking lot north of the Ryan School for Business Studies along Ventura Street (E), will be closed so as to create the permanent faculty/staff parking for September.  While this work is progressing, faculty/staff are asked to utilize the lot behind Hunt-Cavanaugh Hall (F).  Once the new lot on Ventura  St. is completed (mid-summer), we will ask faculty/staff to relocate from the Hunt-Cavanaugh Lot to the newly constructed lot. This will allow for drainage and realignment work to be completed in the Hunt-Cavanaugh Student Lot so as to be ready for the start of school in the fall.
The second phase of the Huxley Ave. Transformation Project will continue through the summer.  Pedestrian traffic will be redirected around work that will take place on the pathway between Accinno and Guzman Halls.  Work on this phase of the project is scheduled to be concluded by mid-August.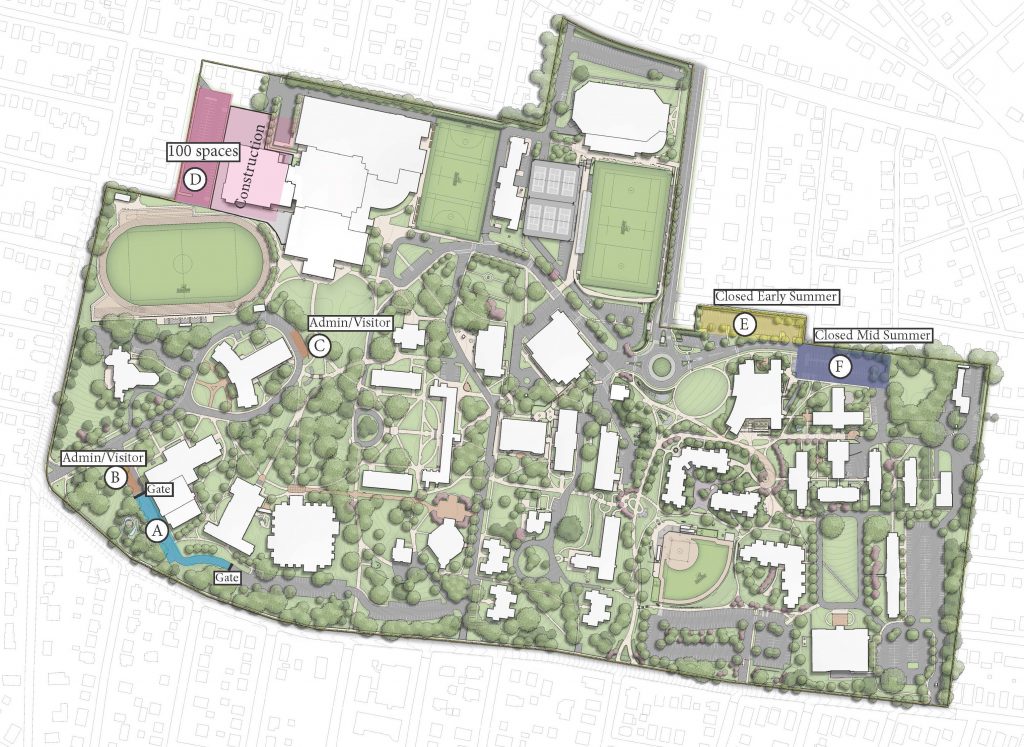 ---