Mullaney Gymnasium Renovation
News and Updates
9/26/2012 – Pictures of the completed Mullaney Gym renovation.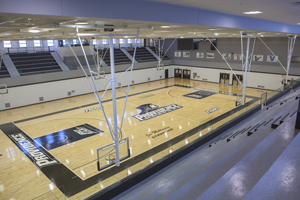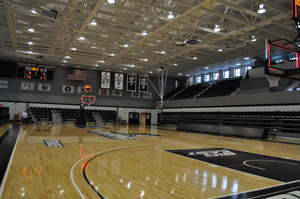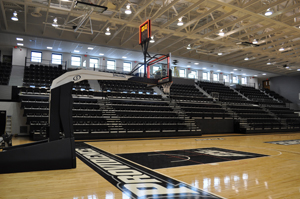 ---
9/17/2012 – The artist will be on site to draw in the new lines and graphics on the new court floor
This process should take about a week and the process to coat the new floor will take approximately 10 days.  Once the floor is completed, the new bleachers will be installed. This work is scheduled for 9/27.  Once the bleachers are installed, the upper bowl seating will be installed and that will complete this 5 1/2 month renovation.
---
6/27/2012 – To date, 2/3 of the renovations have been completed
All mechanical, windows, and bathrooms have been installed and the ceiling has been painted. By the end of July all scaffolding will be removed and the new lighting will be completed. Over the later part of the summer, painting will be completed along with the installation of the new sound system and new technology which will include the scoreboards and control room for video.