Chapey Field at Anderson Stadium
5/2/2016 – Alumni Sports Weekend hosted the dedication ceremony for the Chapey Field at Anderson Stadium.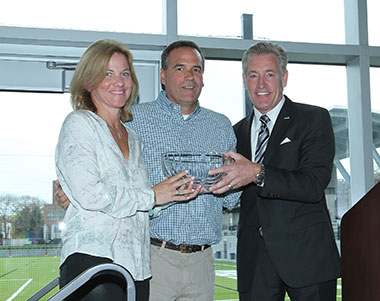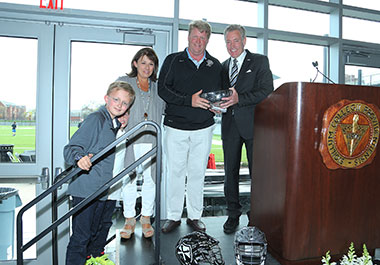 Mike '86 and Maura '86 Chapey with Bob Driscoll (picture 1) Karl '88 and Kerry '88 Anderson and family with Bob Driscoll (picture 2)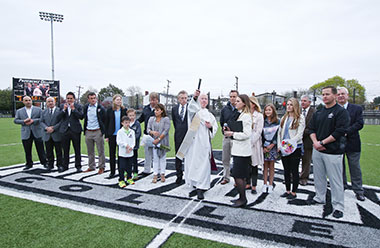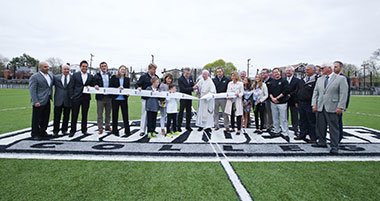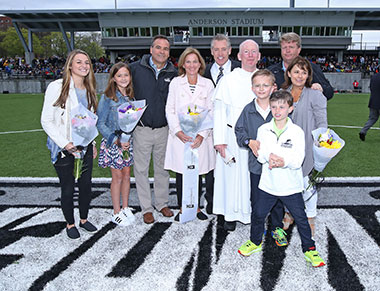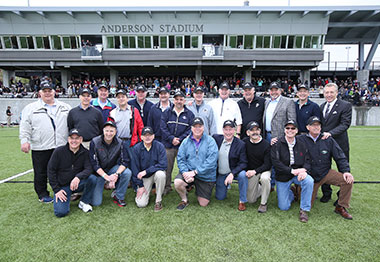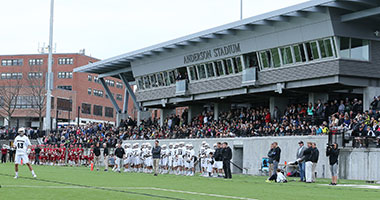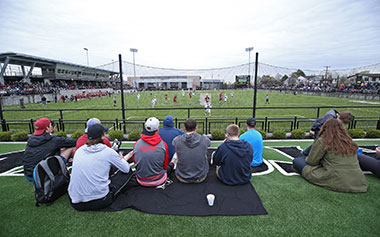 ---
02/19/2016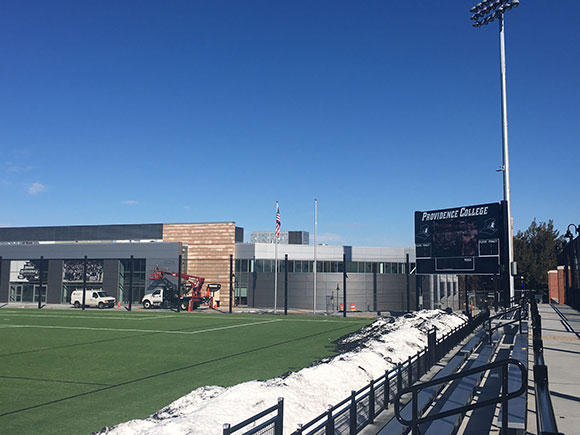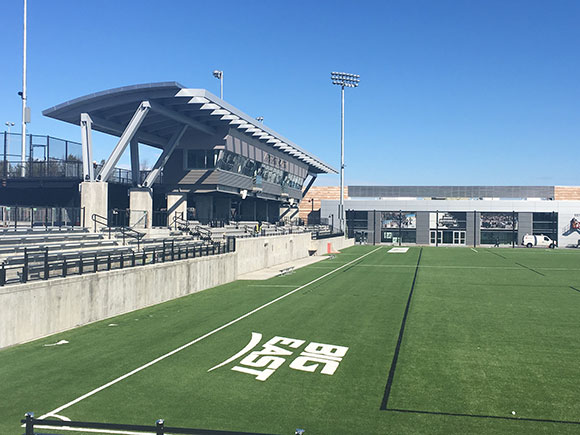 ---
2/17/2016 – view of seating area and inside the press-box with view of scoreboard.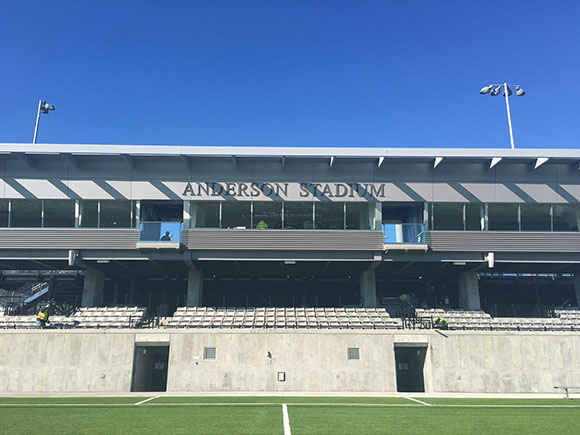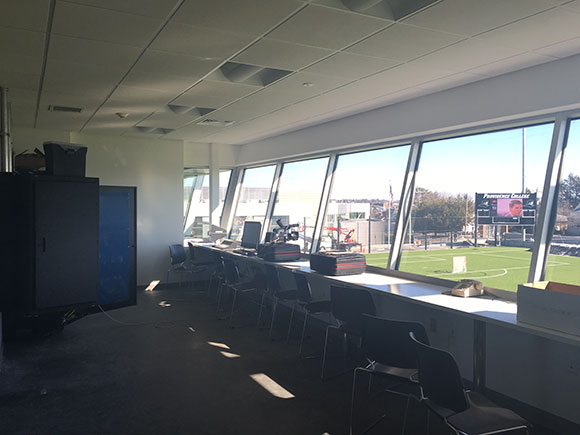 ---
12/15/2015 – Looking west across Chapey Field at the stadium. Scaffolding spans from turf to roof to work on the press box and suites.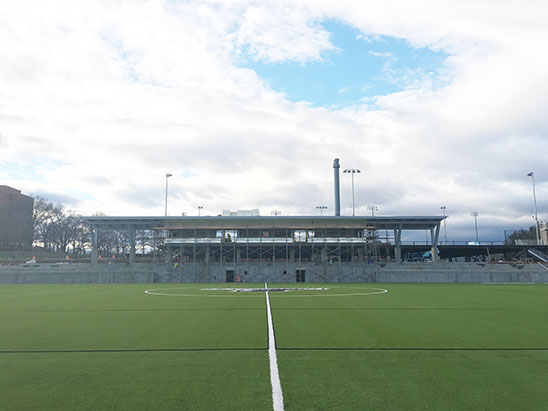 ---
12/15/2015 – Canopy roof decking continues.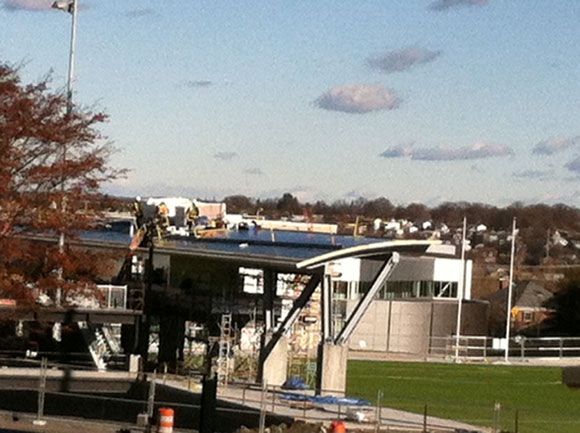 ---
11/18/2015 – Installation of turf is underway. Logos are being layed out for any final movements before being cut in. White lines will be used by soccer and black by lacrosse.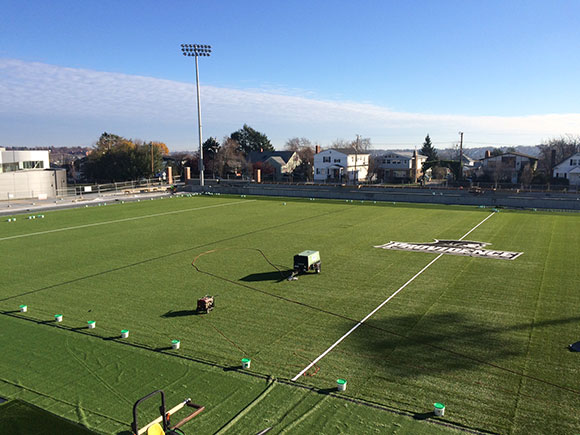 Views of the new turf install from the club room.  From the club room you can see a team working field level installing turf, and another on the grandstands. The top stair is formed and ready to be poured.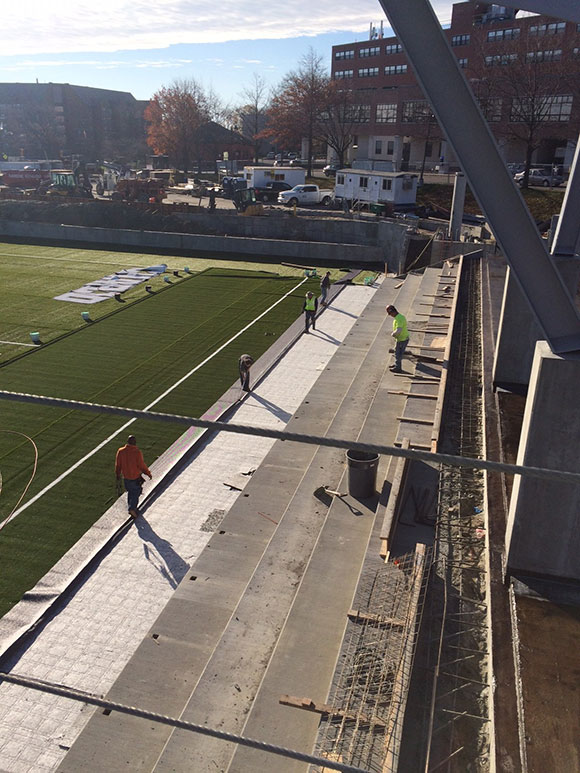 ---
11/12/15 – Field pads installation is being completed. Next step, turf!  Stay tuned.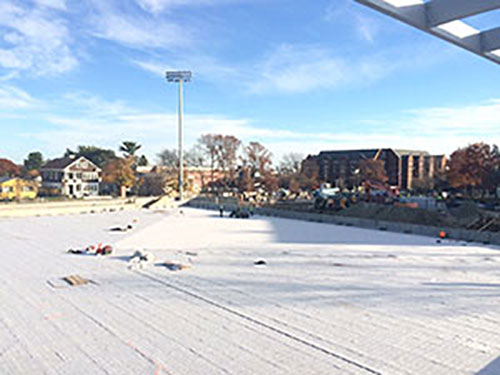 ---
11/12/15 – Club rooms are taking shape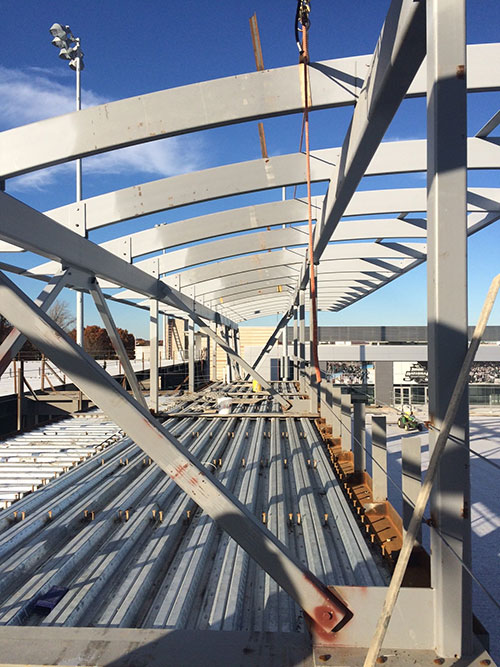 ---
10/26/2015 – Chapey Field is undergoing fine grading before turf install begins Monday! Get ready Friars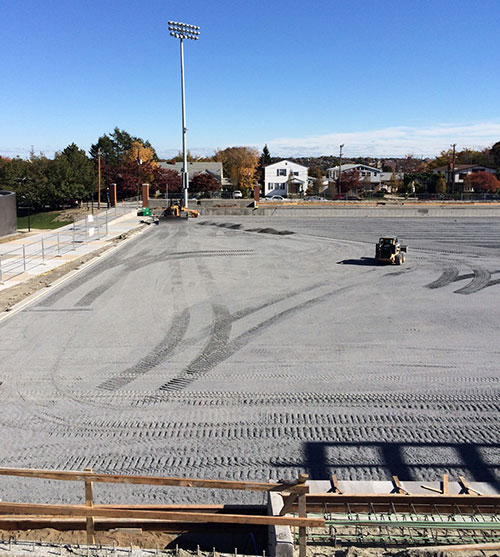 ---
10/26/2015 – An inside peak at the Anderson team rooms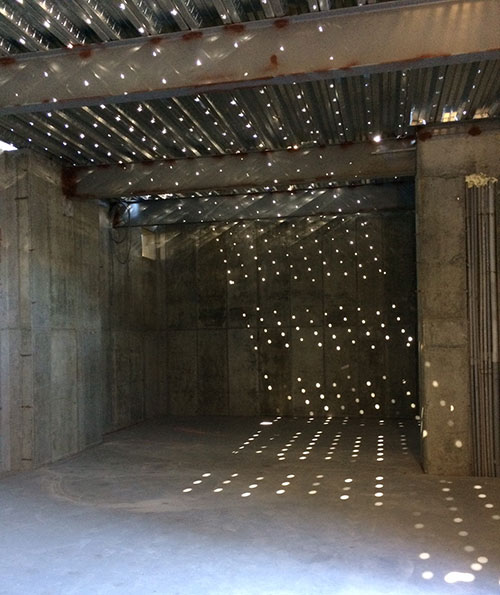 Coming out of the team rooms the full view of the Chapey Field.



Schneider looks good from up here!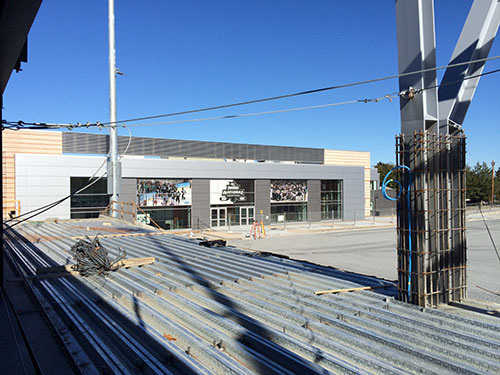 Concourse steel is down with the top deck coming together above. Concourse concrete will be poured later this week.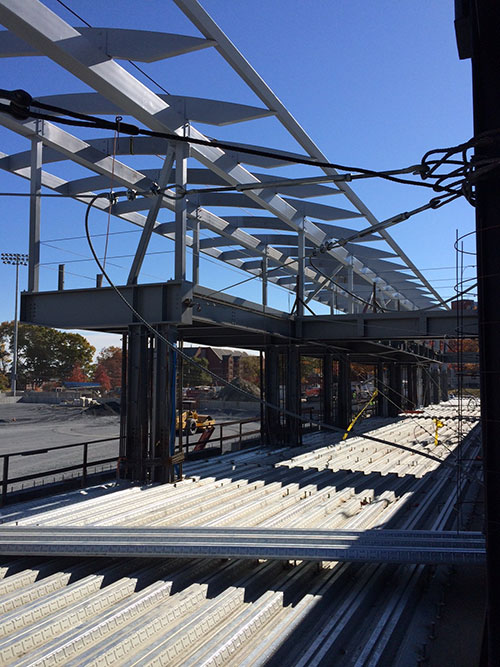 ---
9/29/2015 – Canopy steel is up.  Press box and suites are beginning to take shape.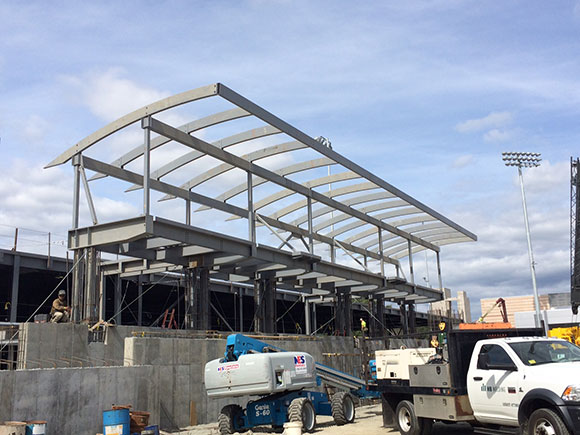 ---
9/19/2015 – A view from the new tennis deck overlooking the completed canopy steel and very busy construction site below.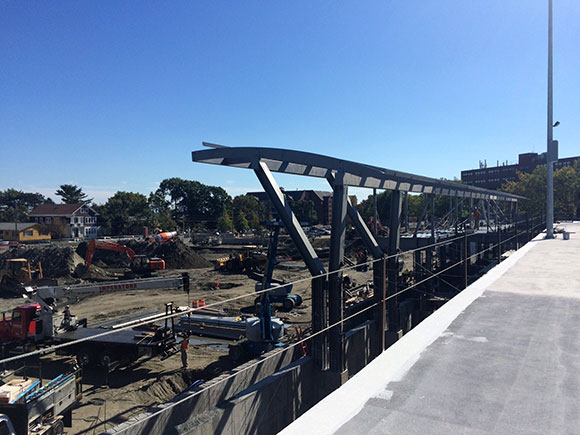 ---
9/16/2015 – The under field drainage system for Anderson Stadium/Chapey field is being installed.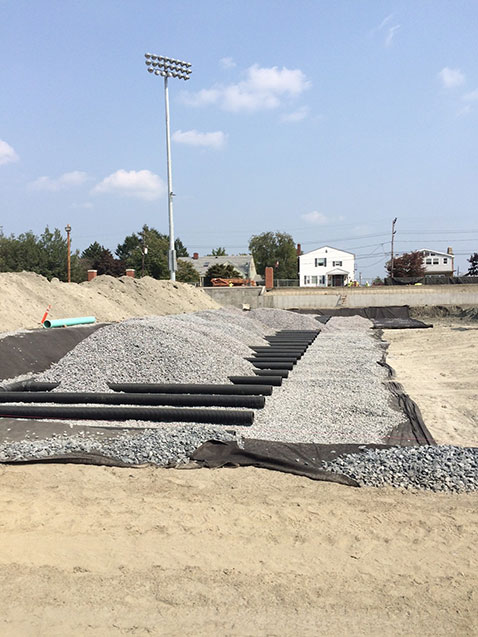 ---
9/14/2015 – The newly completed masonry work at the Anderson Stadium Huxley Avenue entrance ties in traditional elements found around campus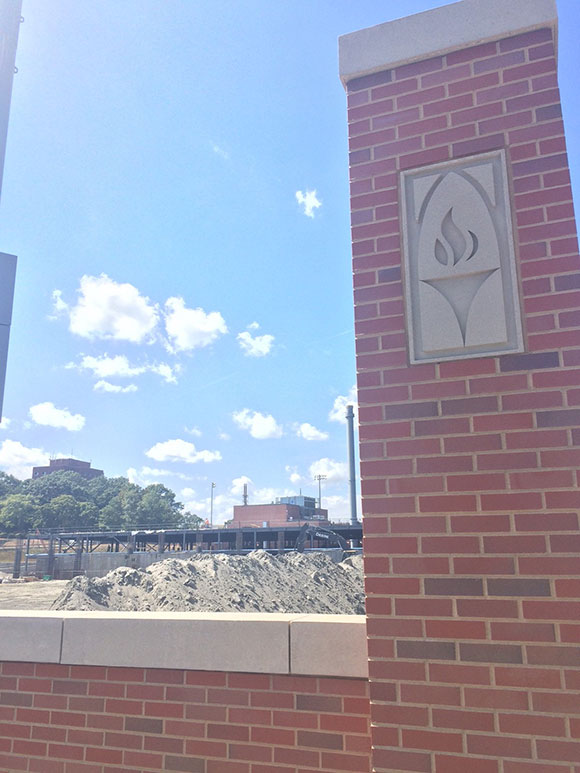 ---
9/4/2015 – Steal beams and rebar begin to define the body of the team rooms and press box area.

This is a view of the new Anderson Stadium/Chapey Field from the point where the new concourse  will begin.  Also pictured to the far left is the new parking deck which will have new tennis courts at the top level.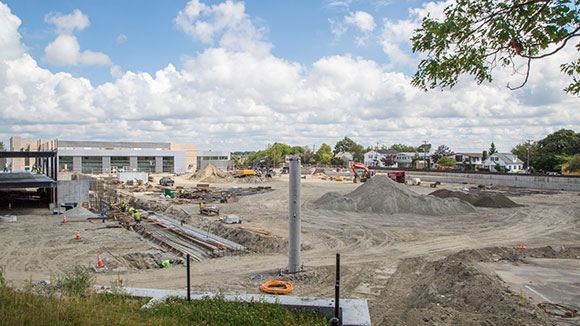 ---
7/23/2015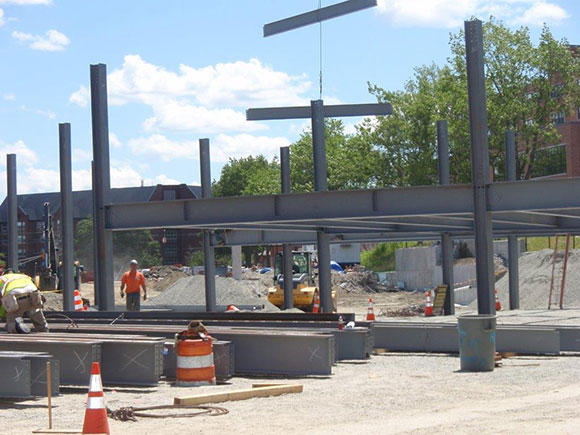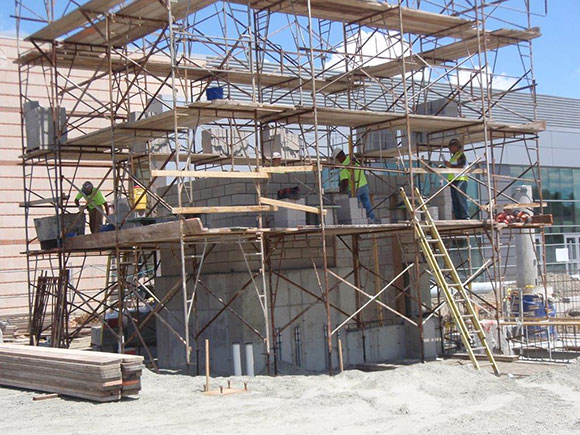 ---
7-22-2015
This month's Time Lapse Video of stadium construction
---
6-15-2015
Time Lapse Video available for the first month of construction (May 5-June 9).
---
5-13-2015
Construction has begun on a 1500 seat soccer and lacrosse stadium.  The completion of this project is scheduled for Fall 2015.