Summer Projects 2013
News and Updates:
Raymond Dining Hall- New Salad Bar and Additional Seating
The Raymond Dining Hall will be undergoing some changes that are designed to enhance the dining program and create an updated and comfortable dining environment.
A new salad station will replace the existing salad bar. This will increase the food offerings and allow the staff to better maintain and supply the bar from the center of the station.
New furniture, including high top tables and stools, booths and tables will be added. The new seating is designed to maximize the available seating, while providing a variety of seating styles. This new furniture will improve the look and functionality of the dining hall.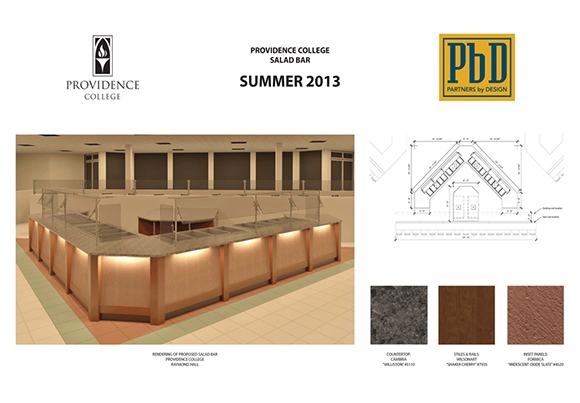 Ruane Center for the Humanities- Ruane Center Cafe
One of the new features of the Dining program will be the inclusion of a new Cafe located in the new Ruane Center for the Humanities. This cafe will feature a variety of specialty Starbucks coffees and a full menu of grab and go items including pastries, sandwiches, salads, fruits, and other take out items. The students will be able to use their Friar Bucks and students, faculty, and staff will be able to use their PC Cash in this new location.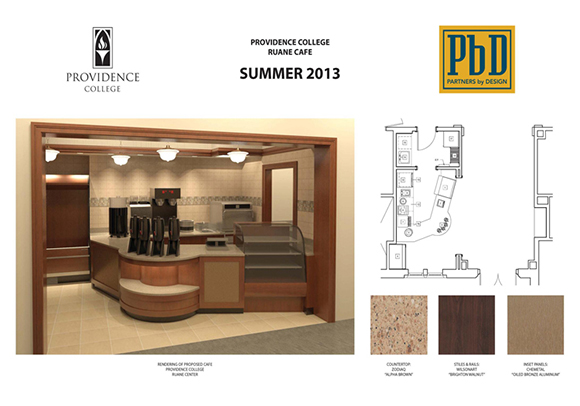 Slavin Center- Roof Replacement
The Slavin Center roof area covers over one acre of space and is dotted with a number of structures and mechanical units.  The contractor will remove and dispose of the existing build up of membrane roofing materials and replace with new membrane roofing system and replace all flashing.  This project will be staged from the rear patio area of Slavin to allow for the continued use of the Slavin lawn and building throughout the summer months.
Completion date scheduled for August 9.